Inspired after spending an evening in Walker Township, Centre County, PA at a conditional use hearing meeting for a proposed residential wind generator on a 12 acre parcel.
The new "NIMBY" top ten list.
| | |
| --- | --- |
| | |
| Proposed site. | Yes, ironically that's a cell tower nearby the proposed site. |
---
Top 10 Checklist
for the uninformed or misinformed person
trying to ban small wind in their township.
So you just learned your neighbor wants to install a residential wind generator on his or her property and your first reaction is
"Not in my back yard!"
Having attended many public hearings on behalf of our clients, we have heard all the so called valid concerns, read "irrational fears" as to why our client should not be allowed to install a wind generator on their property. To save everyone some time, we decided to put together this top ten list of misinformation in order to save you the time and trouble of doing the research and finding it on your own. The price you pay for this convenience is I will do my best to debunk the misinformation and fill your head with common sense and reality.
MYTH
Property values will go down as wind generators go up.
REALITY
Property values actually increase!
No study has ever concluded that wind turbines - neither large nor small - have had a depressing effect on nearby residential property values.
A recent survey found that most people are interested in or willing to pay more for homes equipped with solar panels or wind turbines.
If you had to choose between the purchase of two identical homes, the only difference being one had a much lower electric bill due to
the installation of a small wind generator which one would you buy? Which one do you think would command a higher price?
MYTH
The wind generator, aka "bird guillotine," would kill many birds.
REALITY
10,000 X more birds are killed each year by the common house cat and plate glass windows than by wind generators.
Even the vastly larger, utility-scale wind farms that are grouped closely in large arrays account for less than 0.003% of all human-caused bird deaths.
MYTH
The wind generator would make constant noise, upsetting the peace of the neighborhood.
REALITY
Today's turbines emit sound that is barely discernible from ambient noise, even with a decibel (dB) meter. Sound from traffic, rustling trees, airplanes, and people in fact often sufficiently mask the dull, low, "white noise" sounds a small turbine can make at certain wind speeds.
Only during short-term events like severe storms or utility outages do turbines make distinctive sounds, but in these occurrences ambient sound levels increase as well.
Sound decreases significantly with distance from the source (including height - another good reason to allow tall towers).
Doubling the distance from the turbine decreases the sound level by a factor of four.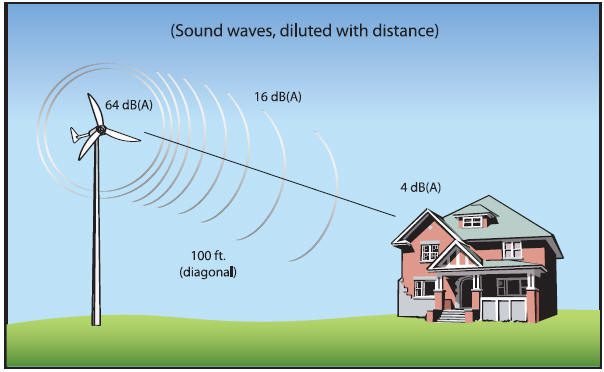 MYTH
Trespassing children would attempt to climb the wind generator's small diameter metal pipe tower and kill themselves.
REALITY
How could a child climb a small diameter metal pipe, and why would anyone attempt to climb such a structure?
Using this logic, every utility pole in the town should be removed because it poses a danger to children.
Perhaps most detrimental of all, fences prevent access to the turbine in emergencies.
MYTH
Shadow "Flicker"

.
REALITY
Small turbines are shorter, have narrower blade profiles, and spin much faster than utility-scale turbines so that any shadows become essentially invisible at operating speeds.
Turbines of all sizes are designed to start spinning only after a minimum wind speed has been attained, so chances are very slim that a small turbine will spin slowly enough to make shadow flicker a concern.
Furthermore, normal setback distances dictated by property lines or sound requirements mitigates, if not entirely eliminates, this potential nuisance, especially at U.S. latitudes.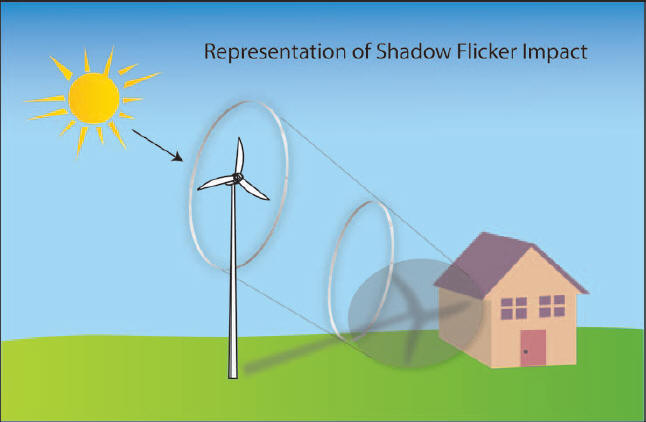 MYTH
The local utility already provides electricity, so your neighbor should not be allowed to have a wind generator because it is inefficient and unnecessary.
REALITY
While electricity is readily available in most locations, one could argue just because local grocery stores provide fresh produce, does not mean people should be banned from having home gardens.
Additionally, 65% of the electricity produced by your utility company is wasted energy lost in transmitting it large distances to your home.
Distributed generation (producing power close to where it will be used) eliminates the wastes associated with transmission and is far more efficient than producing it at a power plant and pushing it long distances.
MYTH
The danger of Icing. Some would argue that in the winter time, a spinning wind generator will throw ice from its blades causing a safety hazard to those nearby.
REALITY
Like trees, street lamps, or other structures, turbines in cold climates can become covered in ice, which falls to the ground as it melts. But just as an airplane's wing must be de-iced in order for it to fly, a turbine's blade must be free of ice in order to rotate at any significant speed. The weight and aerodynamic interference of ice buildup slows the blades' rotation to a near stand-still, making any melting ice fall straight downward rather than being thrown from the blade.
To put this in further perspective, a 1998 study calculated that the risk of personal or property damage from ice falling from a (large) turbine is lower than the risk of being struck by lightning.